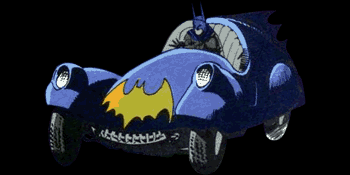 Stewart mentioned that the Batmobile deserved credit in my
Cars With Charisma
post, and I couldn't agree more. So this post is dedicated exclusively to the Batmobile in all its glory. The Batmobile as had several incarnations, the most recent from
Batman Begins
is my absolute favorite; though they are all worthy of mentioning. I can't pretend to be a car aficionado, or even a Batmobile expert. Mostly the car is important for what it represents. Batman was known for his gadgets and the Batmobile was one heck of a gadget. It was a huge extension of Batman's power and resourcefulness. I'm mostly just going to lay out the specs and leave it to the rest of you to try to remember what the car could do and what it represents to you.
The original TV Batmobile started out as a concept car called the Lincoln Futura orig
inally built in 1955. Apparently the car weighed 3 tons and was prone to stress fractures, but did we really care? We just wanted to see all the cool stuff it could do. This model was said to have atomic batteries, turbine engines and all sorts of gadgets. And, lest we forget the 60's show also featured a bunch of other vehicles like the Batboat, the Batcycle and the Batcopter. The next Batmobile was the Keaton/Kilmer/Clooney car from the first series of Batman movies. The Keaton version featured a jet engine, aircraft instruments and browning sub machine guns.The Kilmer car had "Powerful interior machinery radiating with blue-white light through a ribbed body, wing and fins rising majestically from the rear of its body,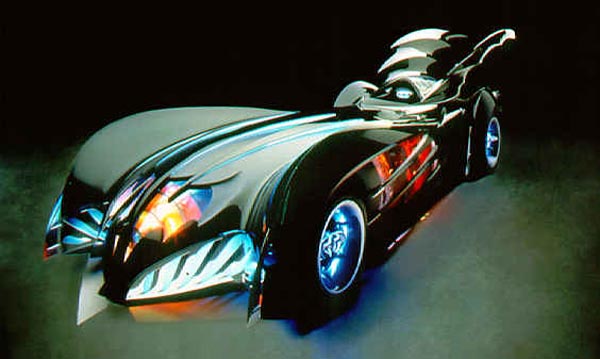 illuminated hubcaps emblazoned with the Bat Ensignia, a powerful engine pulsating beneath the meshed hood, an orange-red flame jetting out of the rear turbine exhaust." What else is there to say? The Clooney version is pretty wild looking, though it doesn't appear to have had much more than the appearance altered having "Goodyear tires with the Bat emblem embossed on the treads; single rear cockpit; independent suspension; illuminated blue hubcaps; pulsing chassis lights...(and) Six flame columns produce a V-shaped exhaust pattern six feet long." Ok then. By far my favorite is the Batmobile from the Batman Begins movie, although it is never actually referred to as the Batmobile in the movie. It is a military vehicle called The Tumbler. This car has: "HOOSIER racetrack tires on front, 4 Rear 44 inch SUPER SWAMP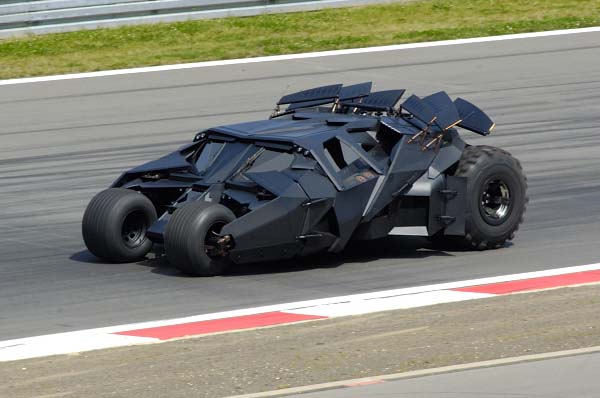 ERS, a our wheel drive conversion component, jet burner in rear with vector controls for the jet, back end flaps for quick stops, landing Hook, enabled with front-firing machine guns, built-in safety link for petrol control, built-in fire extinguisher system, front wheels on bolted arms for an axle-less front end, conventional single axle rear end." But mostly it was cool. What also made this car the best was the way you could see Batman adjusting the car to do it's various functions. And watching the uninitiated try to lie on their stomach to drive the car was just plain fun. That's all I really have for now. It's surprisingly hard to find more specifics on the cars, though I thought this was pretty good. I didn't read the comics as a kid so I don't know what may be missing that was featured in those, so if anyone has info on that I'd love to hear about it. So what do you guys remember? And why do you think the Batmobile is so important to the Batman legend? You know you wanna tell me.